Twenty-one years. Normally when you reach such a landmark there is nothing but celebration and enthusiasm for what the future may hold. It couldn't be more different for Arsene Wenger, 21 years now at the helm of an Arsenal ship that is seemingly listing more as each season passes.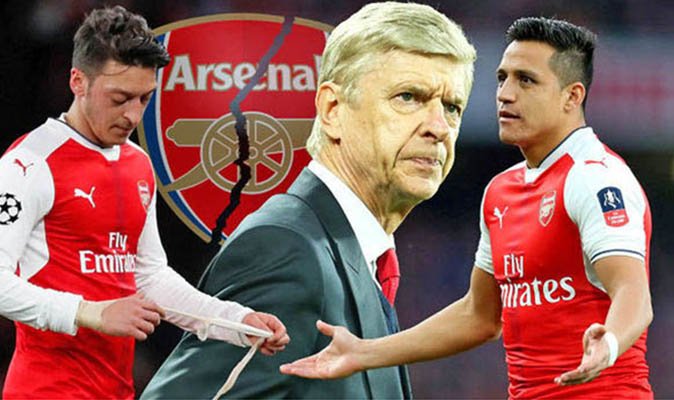 Fans at the Emirates are again arguing over Wenger in or Wenger out. The same deja-vu plagues the club each season it seems and it also plagues every journalist, seemingly copying and pasting the previous seasons transcripts over transfer policy/ambition/Kroenke & Usmanov.
We are now a quarter of the way through the season and again the same patterns seem to be arising for the Frenchman. So how have the first two months of this campaign shaped up? What to make of the new signings at the club? Was he right to let Oxlade Chamberlain leave? And what of Sanchez and Ozil?
Numbers Game
The bookmakers are among those who aren't impressed: After just nine games the Gunners are 66/1 for the title and a best of 7/4 for a top four finish. Even at the shorter price, would a real money punt be a wise option or are we in the realms of free bet bonus territory? To put those figures into more perspective, even Liverpool are shorter than 7/4 in some quarters to be playing Champions League football next season.
On the pitch:
The Jekyll and Hyde Arsenal again rears its ugly head. Arsenal have secured their first silverware of the season beating Chelsea on Penalties in the Community Shield but have succumbed to their familiar foes of rough and tumble in your face football from Stoke and Watford. The same questions of desire from opposing players – in particular Troy Deeney's barbed comments about Arsenal players lacking "cojones" have rankled Wenger.
There are some glimmers of hope though for gunners fans; Arsenal in the Europa league have a 100% record – obviously this isn't the Champions League, but their European pedigree is like that of wily boxer, they know how to take on European sides, soak up pressure and strike with undoubted panache – the wonderful interplay between Wilshere, Walcott and Giroud against Red Star is testament to this.
Wenger has always been a man of statistics to back up arguments. After Deeney made his remarks he responded with a familiar "In the last seven games we have six wins and one draw" but the feeling that statistics can paper over cracks that most can see is more pertinent here. Fans and journalists alike know when teams have the right momentum (just look to the top of the table to see a side that most people would agree are favourites for the title) and there hasn't been that feeling around the Emirates in many a year.
This weekend Arsenal will be playing Leicester City and, with both teams capable of scoring plenty of goals, this could be a good game to look at when placing a BTTS in both halves bet. If you're interested in these sorts of high odds bets then check out Footy Accumulators' Both Teams To Score In Both Halves Tips Page for advice on where to place an informed bet.
Off the pitch:
The transfer window saw the arrivals of Sead Kolasinac and Alexandre Lacazette and the majority of fans would agree that they are both good acquisitions for the club. Kolasinac has settled immediately into this Arsenal side, a solid, consistent performer at left back – the decision to sell Kieran Gibbs to West Brom being proven the right choice. Kolasinac offers physical presence and power that has been missing in this Arsenal side, he never tires and offers the kind of stability of performance that came with Ashley Cole or Lauren – a player who is very good at their job without whistles and bells needed.
Lacazette again has settled well in the first two months, scoring goals and in the outing against Everton the Frenchman looked every part worth the £52 million Arsenal paid. Some might say worryingly he is beginning to find something of a partnership with Ozil and Sanchez. He has the pedigree which Wenger loves in all of his forwards, pace, power and clinical finishing – 5 goals in 9 games is a decent return for a player new to the Premier league and there is definitely more to come from the French international over the coming years.
So both signings have a big tick next to their name – but what of Wenger's decision to offload Alex Oxlade Chamberlain to Liverpool? Irony of ironies the Ox's last game for Arsenal came in their 4 nil drubbing at Anfield, that performance could well have sealed his fate. The England international was woeful that day, castigated by Arsenal fans on social media for chatting to the bench as Liverpool attacked his goal and eventually scored.
The fact that Wenger never really seemed to know where to play him was always a problem, the classic phrase 'utility man' seemed almost predestined to him at the club. He could do a job on the bench, could play centrally, could play on the wings, but at no point did Oxlade Chamberlain ever nail down a position of his own at the Emirates. There was no real ill will from Arsenal fans at his leaving, the Ox had always been a trier, but Arsenal need more than triers in their side and for that Wenger surely made the right choice in taking a very healthy £40 million for him.
Reading the above you would believe that Arsene Wenger has had a very good transfer window and pats on the back all round at the London Colney training ground. But there are two huge problems still looming large for him – Sanchez and Ozil, they should have been dealt with either by sorting their contracts or offloading them. The constant hesitation from Arsenal not to be clinical in their dealings one way or another has become a mark of the club – not necessary Wenger's fault – many fingers point to Ivan Gazidis and the boardroom, Wenger did not have this problem when David Dein was at the club.
The next window (as it always seems) will be critical for Arsenal, if Sanchez and Ozil depart and they are replaced by players that have performed as well as Lacazette and Kolasinac then (strange as this may sound) few Arsenal fans would have a problem saying 'Adios' or 'Auf Wiedersehen' to possibly two of the best players in world football today. The question is who could Arsenal replace them with to turn this side from also rans to title contenders.
To conclude we have to revert to the Arsenal journalistic handbook in assessing them so far and a bit of Arsene-ology. Wenger has a side again capable of winning trophies (community shield in the cabinet, QF's of League cup, 100% record in Europe so far), they are capable of wonderful football (vs Everton especially), they have big decisions to make in the next transfer window (buying and selling), they are in the race for Champions League places (5th in table after an indifferent start).
So how has this season been shaping up? Exactly the same as any other for the past decade I would say.