Gary Neville says that he is surprised at the drop in performance and physical status for Arsenal players in the recent 2-1 loss against Manchester City.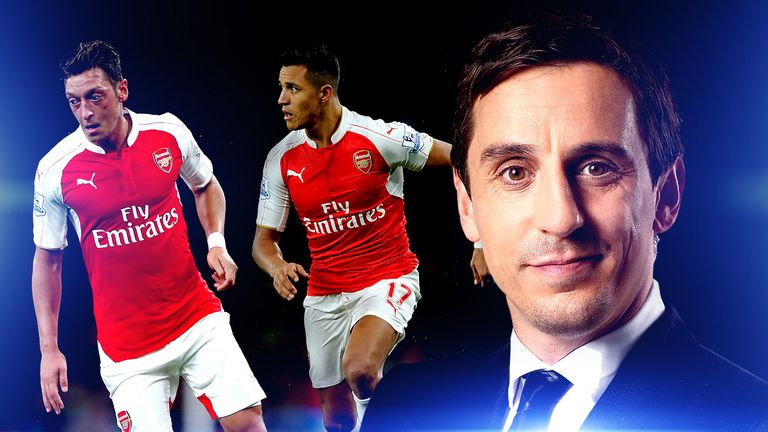 Despite working in early lead through Theo Walcott, the team could not hold on to a victory after they conceded two second-half goals to lose the game. It was the second consecutive of a loss for the club in the space of three days, as they came into the game after a 2-1 loss against Everton. The game against the Merseyside club unfolded in similar circumstances with Arsenal losing after having taken an advantage.
Even though Arsenal allowed City to enjoy a lot of possession, they were dangerous on the counter-attack in the first half. This element of the game went completely missing in the second half, as they were parked in their own half and able to get out.
Bwin have a £50 Bonus at the moment if you fancy backing Arsenal to win the title, but you might be put off by the words of SkySports pundit Gary Neville – he says that it was more than just about bad mentality from the Arsenal players, as he felt that the physical level seemed to drop quite drastically. The lack of energy in the first half was a complete surprise considering that City, who have also had a recent run of tough games, were in buoyant mood throughout the 90 minutes.
Even though there was a hint of offside for both goals, Neville said that the benefit of the doubt can be given to City. "There was a huge physical drop for Arsenal in the second half, I'm not quite sure where that has come from. They just looked completely lethargic, they were walking around the pitch, in such a huge game.
"Initially I thought it was a tactical thing, them not pressurising, but they didn't pressurise at all. They physically just dropped in the second half," said Neville. Arsenal have now fallen nine points behind leaders Chelsea after this defeat.