Sky Sports pundit Gary Neville reckons that Arsenal should not be held to a ransom in their efforts to keep Alexis Sanchez and Mesut Ozil. Both players have less than 18 months remaining on their contracts.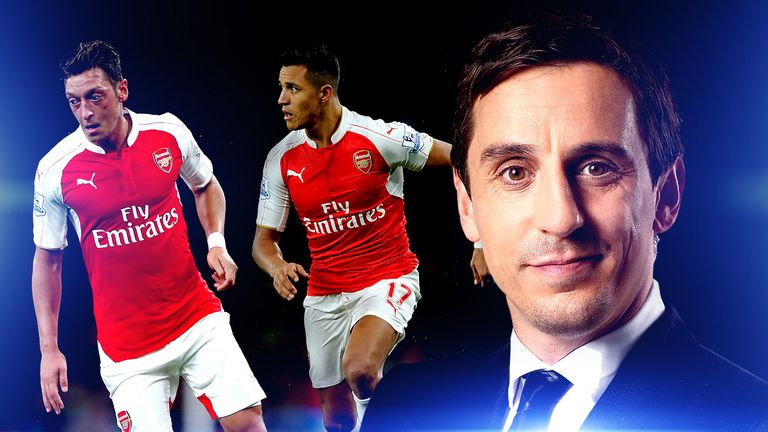 There is interest from Manchester United in Mesut Ozil, while Sanchez has been linked with an incredible offer from the Chinese super league. Neville says that it is vital that Arsenal do everything in their powers to keep the players, but he reckons that it should not come at the cost of destroying the philosophies and believes that the club has acquired over the years.
It is reported that both players are demanding wages in the region of £ 300,000 per week, while Arsenal are unwilling to meet the combined figure of £ 600,000 per week for both players. The gunners currently have Ozil on a contract worth £ 120,000 per week and they are likely to extend it only to as far as £ 180,000 a week.
The situation of Sanchez is still unclear because the Chilean winger has had his heads turned by an offer from the Chinese super league. Known for signing players on extravagant transfer fees and wages, the league are close to signing Chelsea midfielder Oscar for £ 400,000 per week. Sanchez is rumoured to have been offered a similar wage for the move to China.
"You talk about Sanchez and Ozil as though Arsenal Football Club is going to end if they leave.Arsenal have had far better players than them over the last 20 years. I wouldn't worry too much about them holding the club to ransom. Make them an offer and if they don't stay let them go. Arsenal Football Club will still be here in a 100 years' time," said Neville. In the past, Arsenal have left many players depart on a free transfer after their contracts expired.